OSLO-T1000.JPG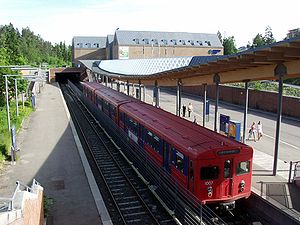 ---
FILE INFORMATION
FILE SOURCE: Mortensrud stasjon 18jun2005.jpg, on Wikipedia page History of the Oslo Tramway and Metro
DESCRIPTION: Mortensrud tube station in Oslo, Norway with a T1000-train from the 1960's.
PHOTO TAKEN:18 June 2005.
UPLOADED:12 Dec. 2005.
AUTHOR: J. P. Fagerback
PERMISSION:
This photo is copyrighted to its author, who should be contacted for the exact conditions under which it can be downloaded, reproduced or used in any other way.